Industry Perspectives
Operation costs and demand challenges alleviated
Andrew Rossi and Beth Sheehan, Delta Locum Tenens
High operational costs have put a strain on patient access to doctors, particularly as the nation's physician shortage escalates.
Adopting midlevel providers to support existing physicians on staff can have a huge impact on facilities looking to provide access to healthcare at a consistent level and boost revenue. Affordable compensation and shorter formal education requirements make these providers an advantageous solution to enhancing a facility's outreach. Midlevel providers can help stabilize care and revenue in understaffed or remote facilities by maintaining patient flow and personal care. For example, in some facilities full-time physicians are only available during certain days of the week, limiting the patient load that can be seen. Having a qualified nurse practitioner on staff allows the facility to accept willing patients even during the days the physician is on call, rather than onsite.
The growing United States population has pushed the trend of utilizing midlevel providers to maintain quality care in areas that do not necessarily demand physician care. The range of midlevel responsibilities varies by scope-of-practice statutes in each state; therefore, it is important for facility administrators to be familiar with legislature associated with their state. For instance, in some areas, nurse practitioners practice independently from physicians, while other areas are more governed. Over the past few years, a trend has emerged in many state legislatures toward broadening midlevel responsibilities.
Midlevel providers can be particularly helpful in rural communities whose scope of practice statute is lightly regulated. For facilities struggling to retain multiple full- time physicians, on-boarding midlevel professionals is an extremely beneficial alternative. Often, remote locations have difficulty recruiting and retaining full-time physicians, yet can present an attractive offer to a midlevel provider who will support physicians already on staff. For the cost of an additional physician's potential compensation, two midlevel providers can be hired—giving facilities a larger staff with outreach to higher patient loads. These providers can take on a great deal of an overworked physician's workload or call schedule, which in turn allows the facility to see more patients overall.
Delta Locum Tenens Marketing Consultant Stephen Gault recently documented this trend in a customer-hospital in Alabama. Historically, the facility's hospitalist program exclusively utilized MD hospitalists, which began taking a toll on morale and revenue at the facility as physicians' work loads were stretched too thin. Within the past year, the facility began to implement the use of nurse practitioners. Subsequently, the physician workload decreased to an acceptable level and the hospital no longer had to pay for MD call coverage. This change increased quality of work life and boosted morale.
In a 2011 study published by Ohio State University Hospital, it is noted that over the next 20 years, rural hospitals will be in competition with urban hospitals for hiring from the same limited pool of physicians. As urban hospitals have a socioeconomic advantage in hiring, it is imperative that each rural hospital analyzes local future healthcare needs and devise strategies that will enhance hiring and retention practices.
Although utilizing midlevel positions has been readily adopted in several areas, the practice has received mixed reviews from skeptics. In a news blog posted by heartlander. org, one physician expresses his opinion that midlevel providers do not have the training necessary to identify complex conditions, as they do not receive as much formal education as a medical doctor. However, the blog also cites another physician's counter argument that midlevel providers can draw on their own training and credentialing, and refer patients to their doctor or an emergency room if a critical condition falls outside of the provider's scope of practice.
Education requirements for nurse practitioners can vary by specialty, but at minimum, require a Master of Science in Nursing, licensure and proven skill sets as a registered nurse, and licensure and certification depending on the nurse practitioner's specialty. Physician assistants must complete a bachelor's degree and secondary accredited educational program. This usually takes at least two years of full-time study and typically leads to a master's degree. Also, all states require physician assistants be licensed. In addition to the requirements above, CRNAs must have at least one year of acute care nursing experience and complete a minimum of 450 cases during their training. Every two years after being certified, CRNAs must be recertified by completing both practice and continuing educational requirements.
An additional concern with drawing on midlevel positions is the impact the providers may play on patient satisfaction. MinuteClinic, the Minneapolis-based organization of health centers, serves as a popular case study to monitoring patient satisfaction with midlevel providers. The clinics are staffed by CRNAs and physician assistants and treat common illnesses such as strep throat and ear infections. To date, the organization boasts a 95 percent customer satisfaction rating after processing over 12 million patient visits.
While there may not be a quick fix to the nation's physician shortage, considering midlevel providers may ease some tension for facilities struggling to develop their staff or maintain an influx of patients in need of quality care. It is important for facility managers to know where their state lies on the scope-of-practice scale in order to understand their staffing options.

Placements & Interviews
Placement Data by Specialty
This data represents average statistics of placements and interviews by Delta Physician Placement over the twelve-month survey period. Since these averages only include placements and interviews, the compensation information presented indicates the rate at which candidates are choosing to interview or sign. Average days information can be used to forecast a probable timeline for a recruitment effort in a particular specialty.
Average Compensation
Average Days
Starting Compensation
Sign-on Bonus
Potential Compensation
From Interview to Placement
Total Placement
Fastest Days-to-Fill
Primary Care
Family Medicine
$195,093
$20,184
$239,596
47
164
3
Internal Medicine
$217,970
$26,929
$300,298
31
154
28
Pediatrics
$191,588
$24,264
$218,088
38
113
64
Psychiatry
$203,644
$23,617
$239,777
58
98
50
Obstetrics/Gynecology
$274,815
$25,000
$348,846
50
179
68
Surgery
General Surgery
$335,990
$28,830
$393,103
46
143
29
Orthopedic Surgery
$493,120
$32,307
$660,000
84
117
83
Otolaryngology
$397,000
$81,000
$501,353
51
222
15
Urology
$406,029
$35,344
$505,620
87
195
82
Sub-Specialty
Cardiology
$460,588
$23,333
$610,000
168
246
246
Oncology
$417,464
$47,142
$499,713
77
213
138
Neurology
$269,230
$25,000
$309,285
70
132
109
Pulmonary Critical Care
$306,500
$35,714
$435,500
23
67
57
Gastroenterology
$439,473
$41,192
$588,710
135
240
240
Hospital-Based
Anesthesiology
$381,000
$16,000
$454,000
7
37
31
Radiology
$500,000
$50,000
$750,000
80
101
101
Hospitalist
$220,450
$23,230
$264,673
97
154
21
Emergency Medicine
$241,214
$23,907
$289,374
45
133
30
---
Placements by Population


Candidate Sources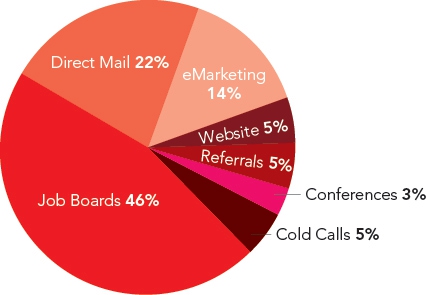 Market Demand
Nationwide Search Distribution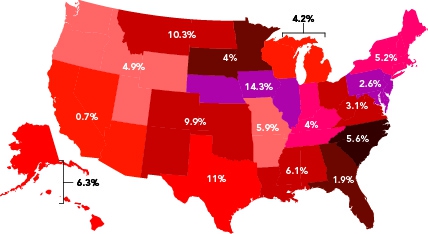 ---
Specialty Demand Comparison
| | | |
| --- | --- | --- |
| | 3rd Quarter 2012 | 3rd Quarter 2011 |
| 1. | Family Medicine | Family Medicine |
| 2. | Hospitalist | Internal Medicine |
| 3. | Internal Medicine | Emergency Medicine |
| 4. | Emergency Medicine | Psychiatry |
| 5. | Psychiatry | General Surgery |
| 6. | Obstetrics and Gynecology | Gastroenterology |
| 7. | Pediatrics | Orthopedic Surgery |
| 8. | General Surgery | Obstetrics and Gynecology |
| 9. | Family Medicine/Obstetrics | Hospitalist |
| 10. | Urology | Neurology |
| 11. | Pulmonary Critical Care Medicine | Pediatrics |
| 12. | Neurology | Urology |
| 13. | Otolaryngology | PM&R |
| 14. | Orthopedic Surgery | Cardiology |
| 15. | Urgent Care | Otolaryngology |
Search Specialty Distribution

---
Candidate Placements
Top 5 States Providers Have
Taken New Opportunities
1.
North Dakota
2.
Alaska
3.
North Carolina
4.
Colorado
5.
Arkansas

Locum Tenens
Days Requested
| | | |
| --- | --- | --- |
| | Specialty | Number of Days |
| 1. | Hospitalist | 34,766 |
| 2. | Family Medicine | 15,658 |
| 3. | Emergency Medicine | 15,514 |
| 4. | Nurse Practitioner | 7,279 |
| 5. | Psychiatry | 5,672 |
Nationwide Physician Distribution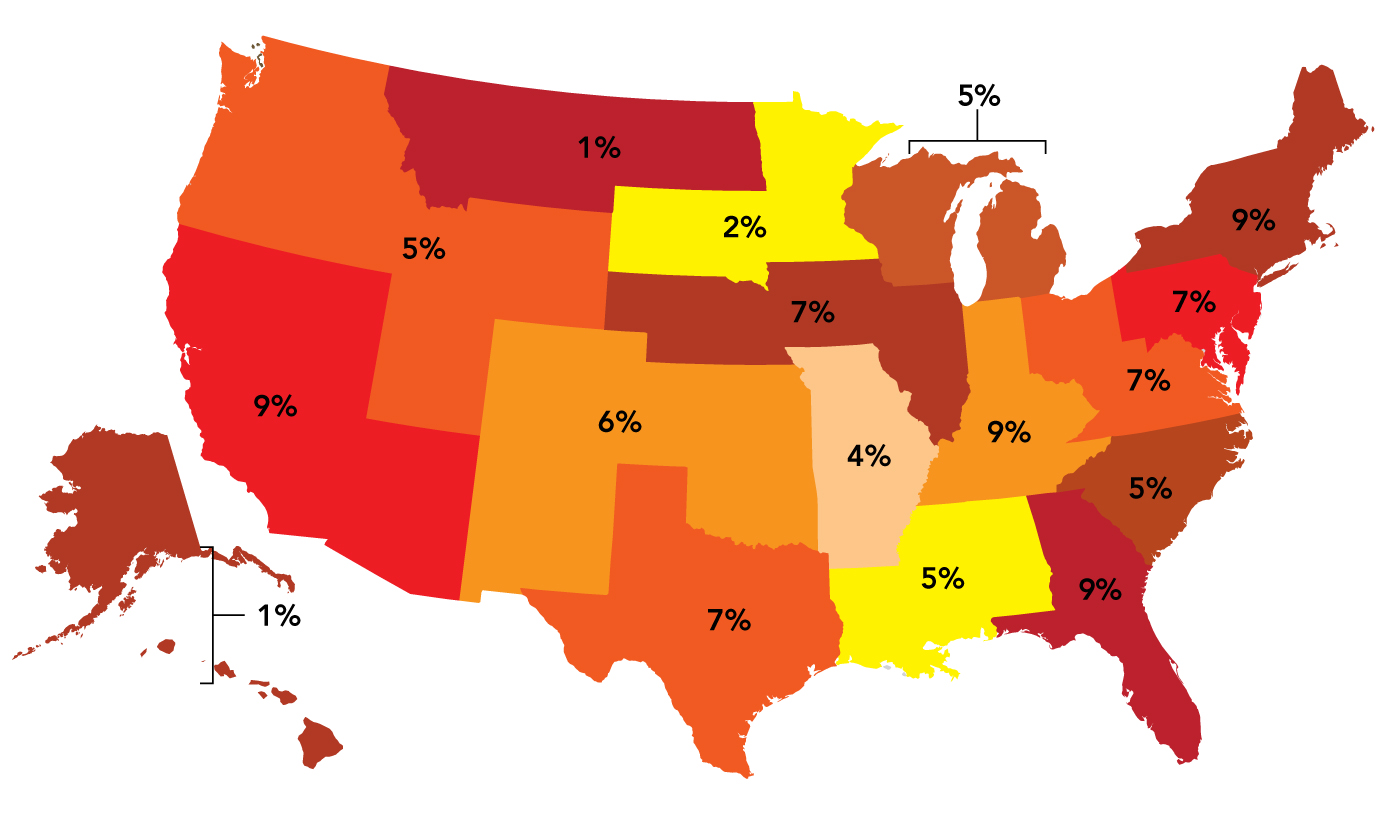 Privileging
Lowest Average
to Close Credentialing
Number of Days
Lowest Average
to Close Credentialing
Number of Days
1.
Iowa
11
6.
Michigan
20
2.
North Dakota
12
7.
Ohio
24
3.
Oklahoma
14
8.
Virginia
29
4.
Arizona
16
9.
Montana
30
5.
Utah
18
10.
Wyoming
32
Total Privileging
files Completed
489
---
Average days
to complete a file
46