Industry Perspectives
So you need a vacation — Take one: Utilizing a locum tenens provider to facilitate needed stress-relief
Kim Hickingbotham, Director of Business Process Training & Development, Delta Locum Tenens
As the summer months approach and kids are out of school, many providers may find themselves dreaming of tropical destinations to beat the heat or simply recharge. However, for many physicians in small groups and especially solo practitioners, a summer vacation is often more of a dream than a reality due to an overwhelming patient load or guilt of leaving their practice unattended.
Although a noble intention, recent research indicates that becoming too absorbed with work can actually have a negative impact on job performance, leading to chronic stress and job dissatisfaction. In fact, physicians are listed among the top occupations in the country to become susceptible to burnout, according to a 2012 article by Arch Intern Med. This research shows that of over 7,000 physicians surveyed throughout the United States, 46 percent reported having at least one symptom of burnout — i.e. prolonged response to chronic emotional and interpersonal stressors on the job leading to exhaustion, cynicism, and inefficacy.
Burnout is, of course, a condition presented in the most extreme cases of discontentment, and arguably, organizational factors play a larger role in the resolution of this condition than do individual solutions such as a summer vacation. With that said, a needed break or vacation could support emotional health improvements, like increasing job satisfaction or reducing the stress of an overstrained provider.
Alternatively, some physicians that do take vacations will choose to simply close their practice for the length of their absence, resulting in a loss of profit and a gap in patient care. The real danger here is presented in the threat of patient migration; whereas, if a patient cannot obtain access to the healthcare they need, they will look for a new healthcare provider entirely.
Utilizing a locum tenens provider to fill this absence may be an effective and affordable solution to maintaining your practice, while still allowing yourself needed and deserved time for relaxation.
Travel expenses and the locum's rates are established prior to the start of coverage, and depending on patient flow during your vacation period, generated revenue may be enough to cover the cost of a locum provider, or even produce profit. All revenue generated by the locum tenens provider goes to your facility. In most cases, facilities can bill Medicare for a locum provider who is filling in for a physician on vacation using the Q6 Modifier. Contact the administrators of your health plans and Medicare and Medicaid in your district for instructions specific to you. More detailed information about billing can be found here.
If a Caribbean sunrise or the beaches of Maui are calling your name, it may be beneficial to look into locum tenens coverage. Be sure to plan coverage well in advance and allow the time necessary to conduct a search for a matching candidate.
Admit it, if you don't "need" a vacation, you most certainly want and deserve one.

Placements & Interviews
Placement Data by Specialty
This data represents average statistics of placements and interviews by Delta Physician Placement over the twelve-month survey period. Since these averages only include placements and interviews, the compensation information presented indicates the rate at which candidates are choosing to interview or sign. Average days information can be used to forecast a probable timeline for a recruitment effort in a particular specialty.
Average Compensation
Average Days
Starting Compensation
Sign-on Bonus
Potential Compensation
From Interview to Placement
Total Placement
Fastest Days-to-Fill
Primary Care
Family Medicine

$202,247

$21,800

$245,758

32

159
3
Internal Medicine
$221,000
$26,071
$350,444
40
185
71
Pediatrics
$203,143
$31,429
$231,429
27
110
64
Psychiatry
$208,846
$25,000
$250,154
25
115
1
Obstetrics/Gynecology
$278,500
$25,000
$341,500
19
172
68
Surgery
General Surgery
$338,375
$29,625
$414,375
32
126
23
Orthopedic Surgery
$450,000
$30,000
$675,000
30
180
100
Otolaryngology
$411,250
$101,250
$532,500
30
260
108
Urology
$403,333
$21,667
$516,667
122
256
155
Sub-Specialty
Cardiology
$450,000
$20,000
$675,000
90
343
172
Oncology
$300,000
$20,000
$560,000
15
197
197
Neurology
$253,750
$27,500
$312,500
47
236
112
Pulmonary Critical Care
$330,000
$20,000
$355,000
136
263
57
Gastroenterology
$425,000
$45,000
$525,000
77
297
240
Hospital-Based
Anesthesiology
$395,000
$16,667
$431,667
5
25
31
Radiology
$425,000
$37,500
$700,000
51
77
53
Hospitalist
$231,043
$24,348
$281,835
27
207
21
Emergency Medicine
$270,979
$21,335
$302,048
28
157
29
---
Placements by Population


Candidate Sources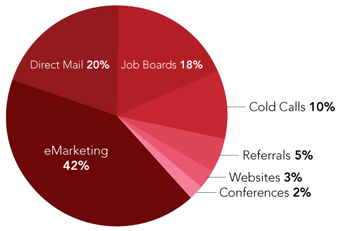 Market Demand
Nationwide Search Distribution
---
Specialty Demand Comparison
| | | |
| --- | --- | --- |
| | 1st Quarter 2013 | 1st Quarter 2012 |
| 1. | Family Medicine | Family Medicine |
| 2. | Psychiatry | Internal Medicine |
| 3. | Hospitalist | Emergency Medicine |
| 4. | Internal Medicine | Hospitalist |
| 5. | Family Medicine - Obstetrics | Psychiatry |
| 6. | Emergency Medicine | General Surgery |
| 7. | General Surgery | Obstetrics and Gynecology |
| 8. | Pediatrics | Pediatrics |
| 9. | Obstetrics and Gynecology | Urology |
| 10. | Orthopedic Surgery | Gastroenterology |
| 11. | Otolaryngology | Family Medicine - Obstetrics |
| 12. | Urgent Care | Neurology |
| 13. | Gastroenterology | Orthopedic Surgery |
| 14. | Pulmonary Critical Care | Pulmonary Critical Care |
| 15. | Endocrinology | Otolaryngology |
Search Specialty Distribution

---
Candidate Placements
Top 5 States Providers Have
Taken New Opportunities
1.
Texas
2.
North Carolina
3.
North Dakota
4.
Colorado
5.
Wisconsin

Locum Tenens
Days Requested
| | | |
| --- | --- | --- |
| | Specialty | Number of Days |
| 1. | Hospitalist | 30,463 |
| 2. | Family Medicine | 14,202 |
| 3. | Emergency Medicine | 13,946 |
| 4. | Nurse Practitioner | 8,357 |
| 5. | Psychiatry | 5,816 |
Nationwide Physician Distribution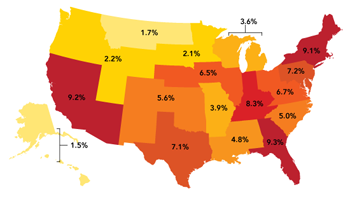 Privileging
Lowest Average
to Close Credentialing
Number of Days
Lowest Average
to Close Credentialing
Number of Days
1.
New Jersey
6
6.
Nevada
24
2.
North Dakota
12
7.
Oregon
28
3.
New York
18
8.
Wyoming
29
4.
Indiana
19
9.
Wisconsin
31
5.
Maryland
20
10.
Oklahoma
35
Total Privileging
files Completed
485
---
Average days
to complete a file
49