Industry Perspectives
Improving Physician Leadership:  An excerpt from "Building the Physician Leadership Team of the Future"
By: Chloe Lewis and Team, Advisory Board Company
Health system executives nationwide are beginning to reimagine physician leaders' roles to support changing organizational goals. This research briefing, with a companion discussion guide, is designed to facilitate conversations among health system stakeholders on the evolving role of the physician leader. 
Seventy percent of chief medical officers see physician leadership development as a "top time-consuming priority" for the foreseeable future. In addition to time, physician executives are making a significant investment in physician leaders. The average institution spends upwards of $100,000 dollars per year on physician leadership development. 
Despite this investment, chief medical officers report that they are not achieving the desired return from their physician leaders. A large portion of the problem relates to conventional physician leadership structures, which have developed ad hoc over a century, as health systems have grown and care delivery models have changed. The result has been vague, duplicative, and unevenly scoped roles and reporting relationships for physician leaders. 
The following examples illustrate an observed trend of leveraging physician management redesign to build systems and reshape how physician leaders are deployed in health systems today.
Systems can optimize leadership roles, provide performance management training and support, and incentivize leaders, but still have little to show for it without solving the organizational design challenges that most health systems face today. 
A typically fragmented patient pathway showcases the persistent disconnects in physician leadership structures; i.e. disconnect between hospital-based physician leaders, clinically integrated network physician leaders, and medical group leadership. 
Nationwide, progressive systems are tackling this opportunity for redesign in two ways (or possibly two phases): optimizing existing leadership structures and building new ones. 
The most straightforward way a system can optimize physician leadership structure is simply to ensure that all system entities are coordinating their efforts and are represented in key groups and meetings. For example, Indiana University Health includes both medical group and hospital leadership in all system planning meetings. This ensures that the entities' strategic investments and decisions are unified, and not in conflict, with one another. 
Banner Health is perhaps the nation's best example of using the power of the shared forum to improve system integration. At Banner, Clinical Consensus Groups (CCGs) are the backbone for clinical standardization across all facilities in the system. 
The CCGs define clinical standards for the system and support the implementation of evidence-based practices system-wide. Each CCG contains representation from each facility within the system and is supported by program managers (administrative partners) and process engineers who ensure the clinicians in the CCG are able to participate at top of license. 
Each CCG presents clinical recommendations to the Care Management Council, chaired by the system CMO, which ultimately makes system-wide decisions. 
Shifting now to examples of health systems redesigning formal leadership structures to improve integration, some health systems nationwide are pursuing this goal by taking the traditionally hospital-based CMO position and making it a system-wide role instead. 
CHI Franciscan Health took this tack. To reduce entrenched clinical fiefdoms and provide added signal value to system-wide strategic issues, the system removed their acute care facility-based CMOs and elevated them to associate CMO roles with system-level oversight. Each associate CMO is responsible for a different system-level strategic imperative. Department medical directors are now the highest-level physician leader in each facility. 
Community Health Network (CHN) has created a matrixed network of service line physician leaders and regional physician leads to take the place of more traditional facility-level CMOs. The regional physician leaders oversee multiple facilities within a region and have oversight of the entire care continuum for their region's facilities, including hospitals, urgent care clinics, and physician practices. 
Distinct accountabilities for broad cross-continuum leadership and deep clinical service line leadership, with all leaders reporting up to a single chief physician executive, promote an unprecedented level of system integration. 
Using the research in this paper as a foundation, the examples above support stakeholders in starting a discussion and evaluating the current state of physician leadership at their organizations and planning for future physician leadership redesign. The discussion should help set a clear trajectory of physician leadership, and goals on which to base a physician leadership transformation plan. 
For more information or to view this article in full text, visit www.advisory.com.

Placements & Interviews
Placement Data by Specialty
This data represents average statistics of placements and interviews by Delta Physician Placement over the twelve-month survey period. Since these averages only include placements and interviews, the compensation information presented indicates the rate at which candidates are choosing to interview or sign. Average days information can be used to forecast a probable timeline for a recruitment effort in a particular specialty.
 
Average Compensation
Average Days
 
Starting Compensation
Sign-on Bonus
Potential Compensation
From Interview to Placement
Total Placement
Fastest Days-to-Fill
Primary Care
Family Medicine
$208,800
$47,545
$262,120
59
126
22
Internal Medicine
$212,929
$20,385
$275,357
45
157
40
Obstetrics/Gynecology
$326,400
$42,000
$409,000
12
76
43
Pediatrics
$217,200
$20,000
$257,000
25
133
33
Psychiatry
$225,182
$23,125
$255,000
47
170
22
Surgery
Orthopedic Surgery
$568,000
$85,000
$790,000
27
139
40
Otolaryngology
$487,500
$62,500
$550,000
53
141
93
General Surgery
$354,000
$57,500
$404,000
170
334
74
Urology
$502,500
$75,000
$700,000
36
98
78
Sub-Specialty
Physical Medicine/Rehab
$332,500
$23,750
$487,500
24
131
73
Pulmonary Critical Care
$326,250
$37,500
$365,000
38
139
25
Hospital-Based
Hospitalist
$246,417
$22,083
$266,583
35
201
73
Emergency Medicine
$400,000
$30,000
$500,000
-
131
25
---
Placements by Population
Candidate Sources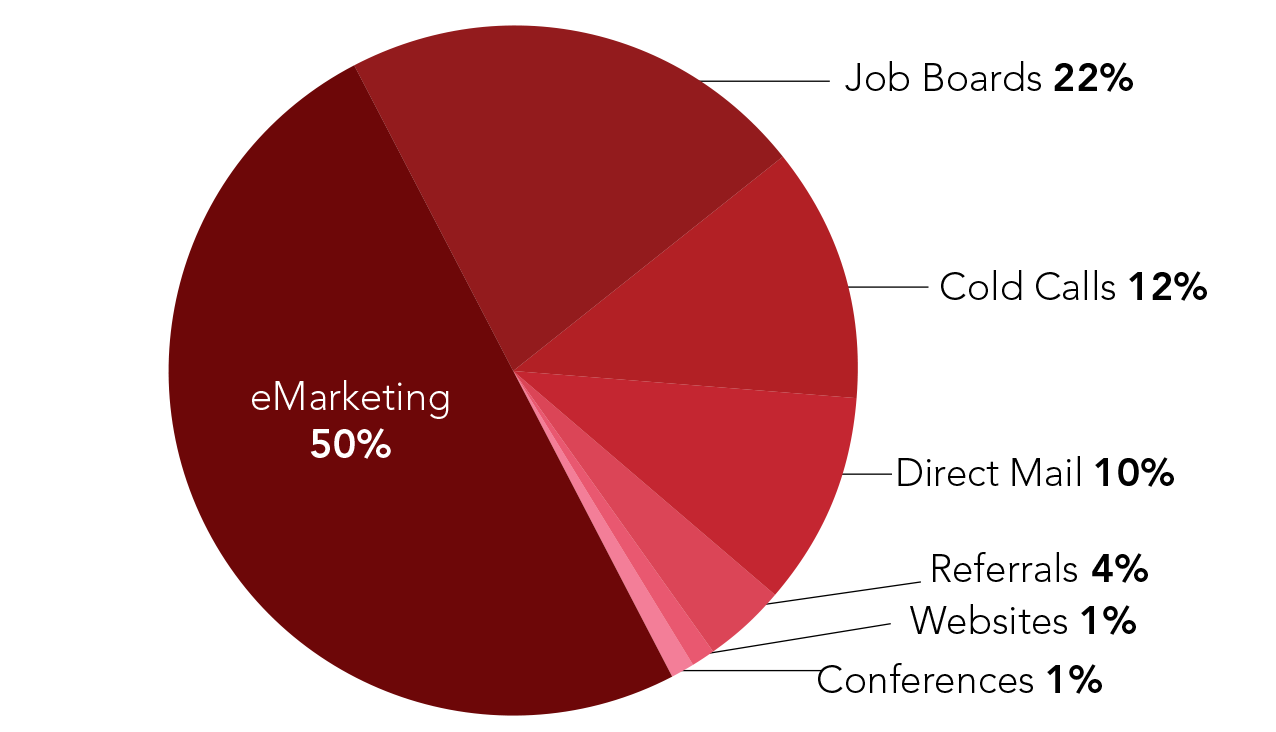 Market Demand
---
Specialty Demand Comparison
| | | |
| --- | --- | --- |
|   | 1st Quarter 2015 | 1st Quarter 2014 |
| 1. | Family Medicine | Family Medicine |
| 2. | Family Medicine - Obstetrics | Internal Medicine |
| 3. | Internal Medicine | Family Medicine - Obstetrics |
| 4. | Psychiatry | Orthopedic Surgery |
| 5. | General Surgery | Hospitalist |
| 6. | Emergency Medicine | Gastroenterology |
| 7. | Hospitalist | Nephrology |
| 8. | Orthopedic Surgery | Obstetrics and Gynecology |
| 9. | Urology | Psychiatry |
| 10. | Caridology - Non-Invasive | General Surgery  |
| 11. | Dermatology | Dermatology |
| 12. | Neurology | Emergency Medicine  |
| 13. | Obstetrics and Gynecology | Gastric Medicine - FP |
| 14. | Opthalmology | Hematology/ Oncology |
| 15. | Otolaryngology | IM/Pediatrics   |
Nationwide Search Distribution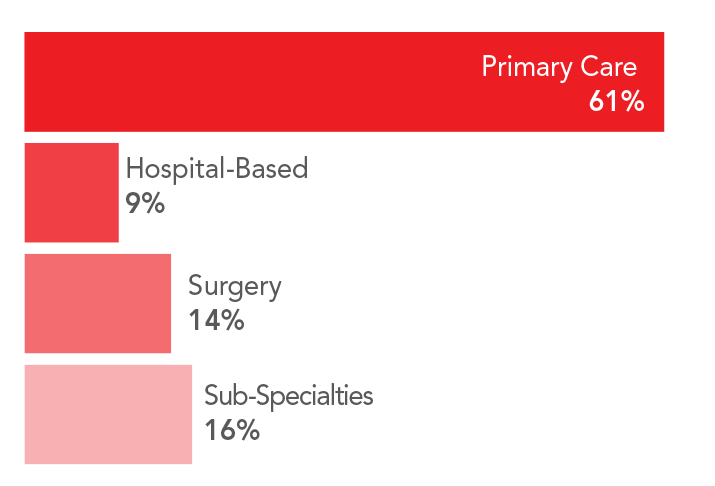 ---
Candidate Placements
 
Top 5 States Providers Have
Taken New Opportunities
1.
Texas
2.
Iowa
3.
Wisconsin
4.
Nebraska
5.
Minnesota

Locum Tenens
Days Requested - Top Specialties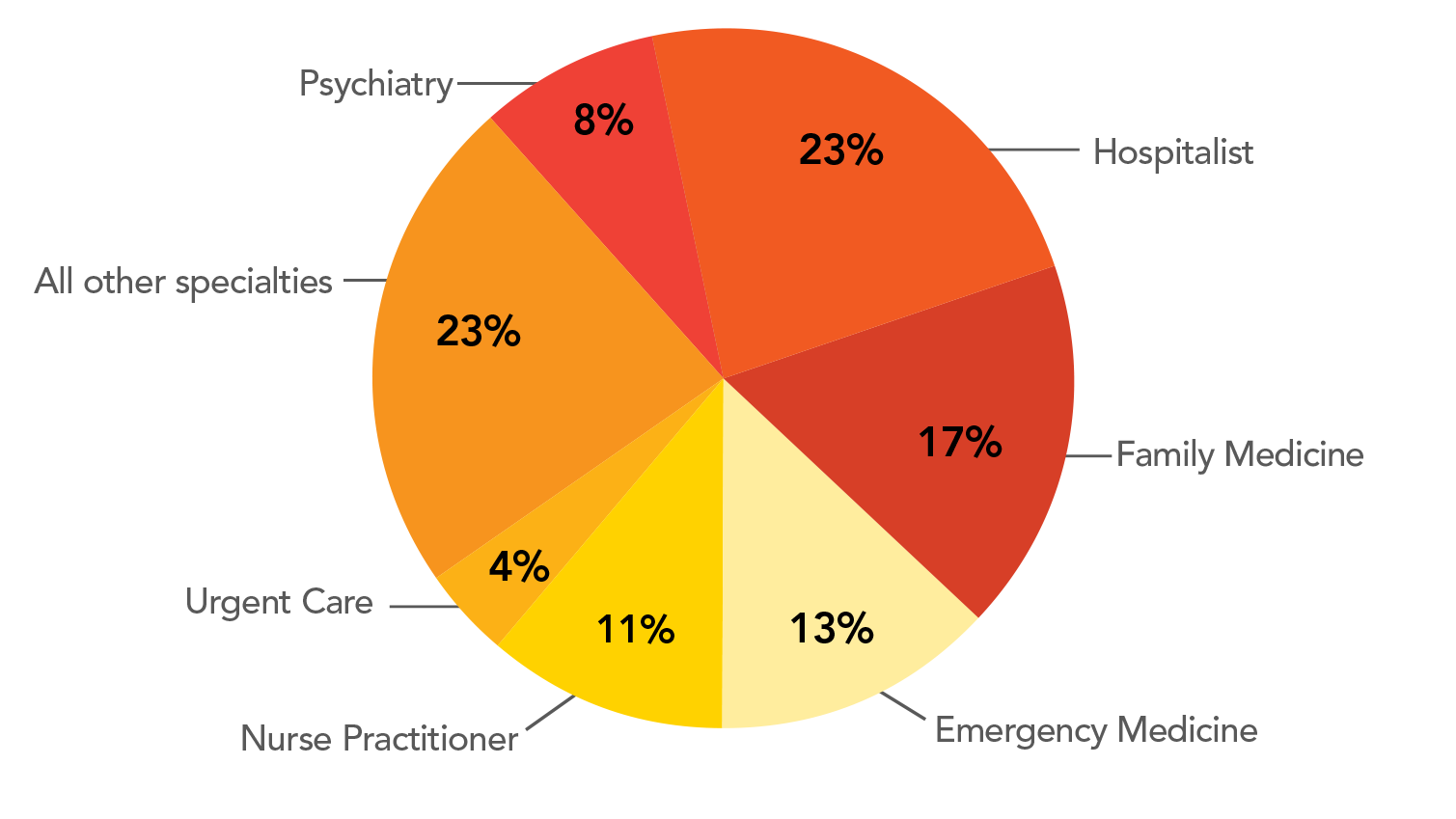 Nationwide Physician Distribution