Industry Perspectives
Five tips to boost physician retention
By: Andrew Rossi, Senior Director of Marketing, Delta Locum Tenens
As we learned from many of our readers at the 2014 Annual ASPR Conference, improving physician retention continues to be the top priority. Considering this, The Delta Companies sought to identify a series of situations where clients have seen exceptional success from their retention efforts; and, from this we have established five key elements in which facilities of all types may benefit. The following best practices have seen demonstrated success in improving retention of physicians from both permanent placement and reoccurring locum tenens' assignments. 
1. Creating an effective orientation process, before Day 1
As we've discussed in previous articles, establishing a great first impression is essential to recruiting top talent to your team. A physician's first few days of introduction to the team are equally essential to retention. During this time, facility representatives communicate expectations to the new provider, discuss the organization's values and mission regarding patient care, and go over any procedures or daily housekeeping issues related to the staff (such as electronic medical record training and administrative responsibilities). 
Best Practice: Properly onboarding a new physician is critical to daily performance; however, it is also a way to help facilitate relationships between the new physician and existing staff. It is important to establish a facility representative to be responsible for coordinating a new physician in order to create a seamless and welcoming experience. For example, one of our clients in a rural hospital setting identifies facility champions that volunteer to show a physician around during the first days of orientation. This champion acts as a guide for the new physician, answering questions and helping to welcome the new physician to the existing culture of the organization. 
2. Get personal
Many employees rate the enjoyment of working with their colleagues among the highest of any employment attribute, according to research conducted by Inavero. Getting to know an incoming provider (and his or her priorities) can catalyze the facilitation of interpersonal relationships between new physicians and existing staff. 
Best Practice: One of our clients in the Midwest does an excellent job of welcoming new physicians to their team. During the interview process, the client tailors the physician's experience to accommodate their interests, taking them to local points of interest such as a football game or museum, post-interview. Once the physician joins the organization, the client continues to personalize their onboarding experience by connecting the physician and their family members to interests throughout the community; i.e. connects the family to a church group; introduces the kids to the local soccer team's coach; ensures the provider's spouse knows the ins and outs of the community and employment options, etc. 
3. Let physicians have a voice
One of the best ways to gauge job satisfaction (particularly as it relates to retention) is going directly to the source. What kind of channels does your organization have in place to collect feedback from your staff?
Best Practice: As a multi-location healthcare system across the southern US, one Delta Physician Placement client keeps communication at the forefront of their recruitment strategy. Under the umbrella of this healthcare system, individual locations identify a physician representative to have a voice in how operations are managed throughout the healthcare system. These physician representatives are then invited to regularly scheduled meetings with administrators, who channel physician feedback up to the organization's CEO. This keeps the organization's leadership in the know about issues going on at an operational level while allowing staff to feel their interests are fairly represented. 
4. Treat your locum like a perm
Physician retention is not exclusive to permanent assignments. Many of our clients rely on locum tenens physicians to supplement staff. Often, our Delta Locums Tenens' clients request repeat assignments from locums physicians that are a good fit for their organization.
Best Practices: One of our clients in rural Texas relies entirely on locums services to support their growing patient demand. At this facility, the organization's physician recruiter greets each incoming locum doctor at the airport upon arrival, ensures the physician obtains a rental car, and then escorts the physician to his or her hotel. This same personalized treatment continues onsite as the physician recruiter walks the locum provider through orientation. Creating a physician liaison between locum providers and administration has exponentially increased locum retention for this facility, and often our providers request to return to this assignment whenever available. 
Another success we've seen is in a national urgent care group. This organization requires locums physicians to undergo the same three-day orientation as permanent providers; learning the values, mission, and procedures of the organization (such as EMR training and billing processes). After one locum assignment concludes, providers often opt to obtain licensure in other states and return to work for this client; returning to the organization knowledgably of the healthcare system's processes and values. 
Another Delta Locum Tenens client took a creative approach to retaining locums providers by providing premium housing to contracted providers. This client wows locum providers by providing a furnished apartment in place of hotel accommodations and actually saves money by paying rent instead of long-stay hotel fees. This client has seen success in converting locum physicians into full time staff, in large part due to the extra effort they make to accommodate their providers. 
5. A quick tip on compensation
Offering a competitive compensation package is a necessary component to retaining top talent. Although healthcare providers have a variety of reasons for taking or choosing to stay in certain jobs, money always plays a hand. While increasing retention does not necessarily require you to be the highest paying organization in the nation, it does require that your physicians feel they are paid at a market competitive rate. If they feel they are being overworked and underpaid, often times they will walk away. 
Best Practice: Several of our clients have responded to the need to keep compensation competitive by offering a retention bonus to long-term physicians. By offering a five percent annual salary increase, these clients have seen successful upticks in their recruitment efforts and avoided the loss in revenue associated with losing a provider. 
Overall, physician retention continues to be a key priority to healthcare facilities throughout the country. One way to capitalize on this initiative is to differentiate your organization by increasing retention efforts and getting creative with your recruitment and retention strategies. 

Placements & Interviews
Placement Data by Specialty
This data represents average statistics of placements and interviews by Delta Physician Placement over the twelve-month survey period. Since these averages only include placements and interviews, the compensation information presented indicates the rate at which candidates are choosing to interview or sign. Average days information can be used to forecast a probable timeline for a recruitment effort in a particular specialty.
Average Compensation
Average Days
Starting Compensation
Sign-on Bonus
Potential Compensation
From Interview to Placement
Total Placement
Fastest Days-to-Fill
Primary Care
Family Medicine
$212,044
$30,885
$259,741
35
119
21
Internal Medicine
$218,833
$24,167
$291,250
42
158
40
Pediatrics
$192,000
$10,500
$216,667
38
126
33
Psychiatry
$233,333
$22,778
$225,555
70
169
22
Obstetrics/Gynecology
$327,500
$32,500
$406,250
14
95
43
Surgery
General Surgery
$374,444
$32,857
$435,556
107
198
37
Orthopedic Surgery
$566,667
$41,667
$716,667
44
144
134
Otolaryngology
$487,500
$67,500
$550,000
31
107
93
Urology
$541,667
$45,000
$708,333
27
79
72
Sub-Specialty
FM- Obstetrics 
$250,500
$22,500
$287,500
33
117
79
Neurology
$287,500
$30,000
$437,500
59
17
33
Pulmonary Critical Care
$310,000
$35,000
$377,500
33
75
16
Hospital-Based
Occupational Medicine
$245,000

$12,500

$257,500
48
118
95
Hospitalist
$234,833
$24,167
$256,667
31
135
33
Emergency Medicine
$304,376
$32,000
$337,000
19
72
15


---
Placements by Population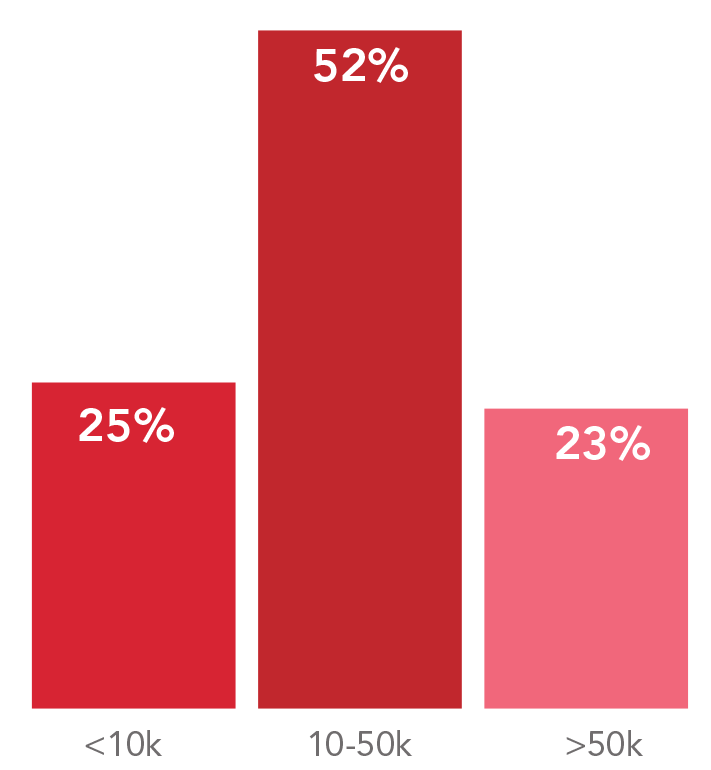 Candidate Sources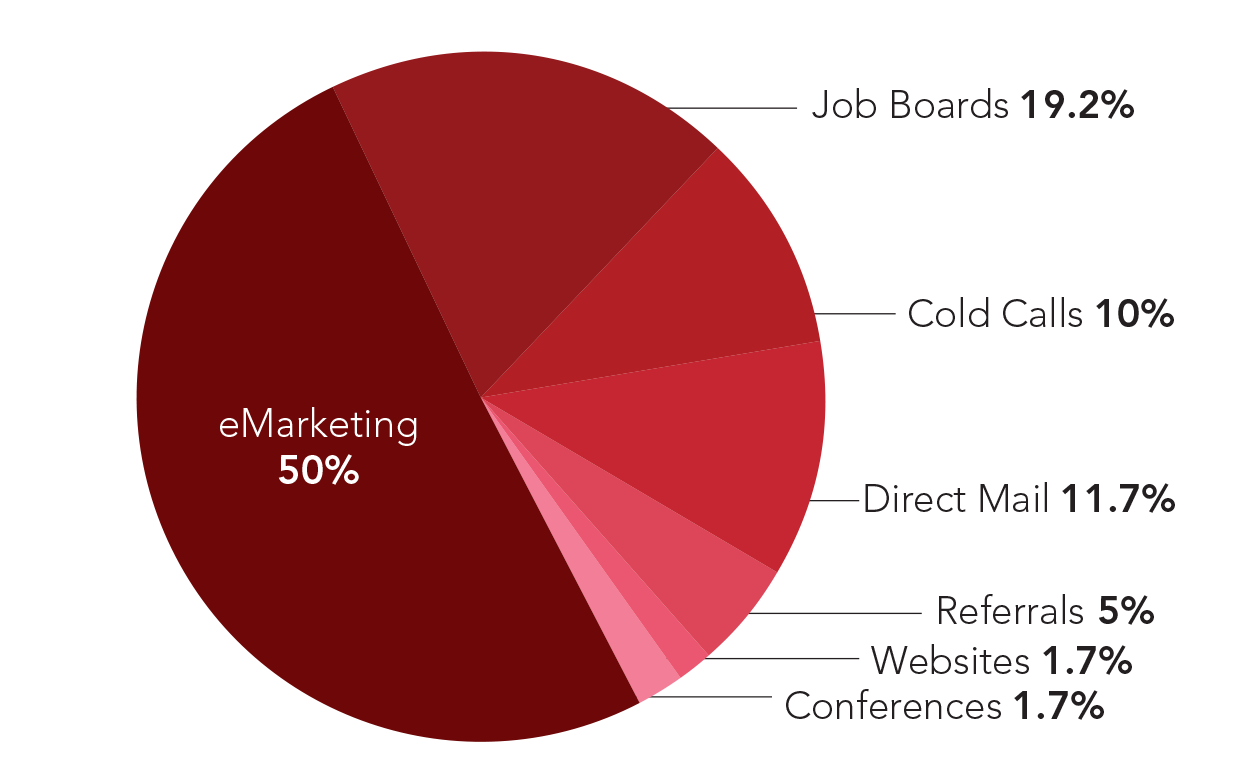 Market Demand
---
Specialty Demand Comparison
| | | |
| --- | --- | --- |
| | 3rd Quarter 2014 | 3rd Quarter 2013 |
| 1. | Family Medicine | Family Medicine |
| 2. | Psychiatry | Psychiatry |
| 3. | Internal Medicine | Hospitalist |
| 4. | Orthopedic Surgery | Internal Medicine |
| 5. | Family Medicine - Obstetrics | General Surgery |
| 6. | Hematology/ Oncology | Emergency Medicine  |
| 7. | Hospitalist | Obstetrics and Gynecology |
| 8. | Obstetrics and Gynecology | Dermatology |
| 9. | Pediatrics | Family Medicine - Obstetrics |
| 10. | Dermatology | Pediatrics |
| 11. | Maternal Fetal Medicine | Urology |
| 12. | Medical Oncology | Anesthesiology |
| 13. | Ophthalmology | Endocrinology |
| 14. | Physical Medicine & Rehabilitation | General Practice |
| 15. | General Surgery | Nephrology |
Nationwide Search Distribution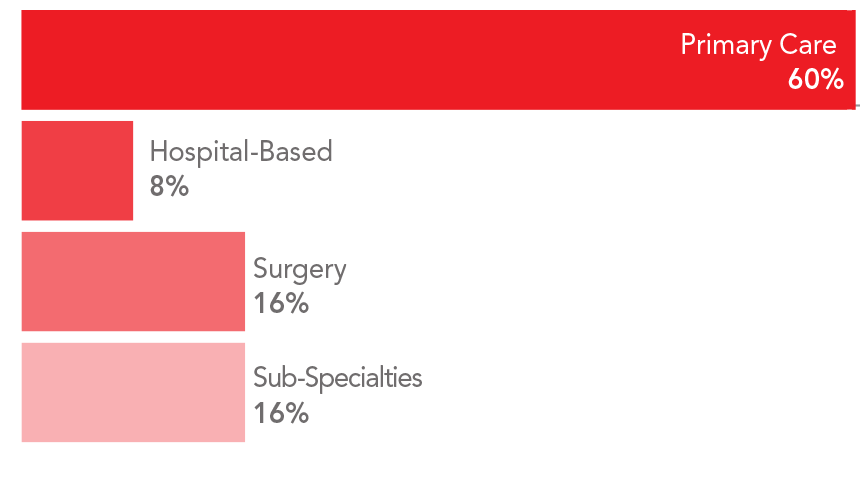 ---
Candidate Placements
Top 5 States Providers Have
Taken New Opportunities
1.
Texas
2.
Iowa
3.
Wisconsin
4.
Louisiana
5.
Oklahoma

Locum Tenens
Days Requested - Top Specialties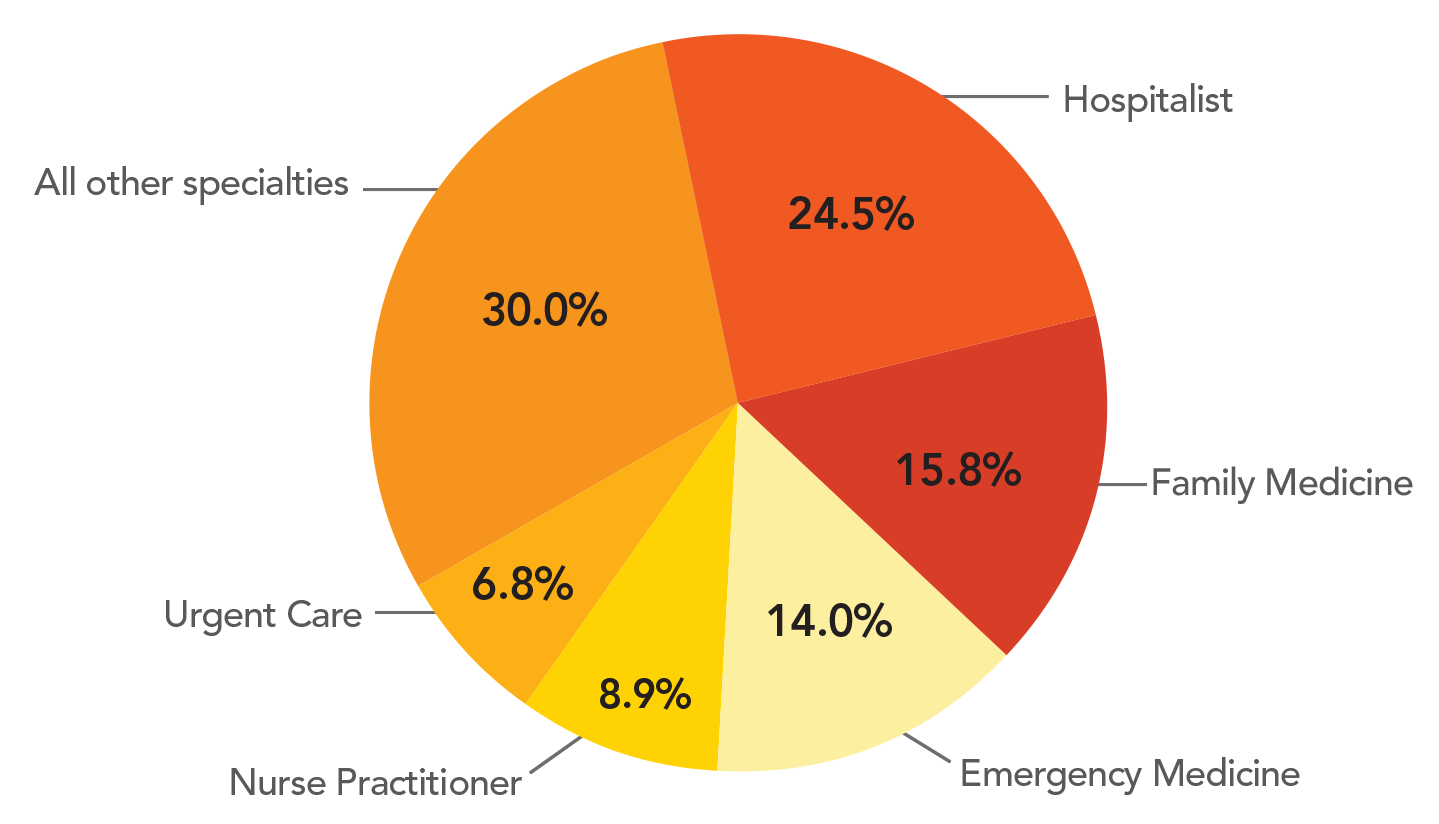 Nationwide Physician Distribution