Industry Perspectives
Taming the social media beast: How employee identification can bridge recruitment and retention
By: Marc Bowles, VP of Marketing, Delta Locum Tenens 
Blogging, tweeting, and status updates are not new terms to anyone who's had access to the Internet over the last ten years. In fact, as Facebook, Inc. celebrates its tenth anniversary this February, the social networking channel is predicted to hit over 2 billion users, giving voice to users of all age brackets, socioeconomic status, and knowledge base while eliminating geographical barriers across the globe. According to Social Media Examiner's 2013 Social Media Marketing Industry Report, even a large majority of businesses have recognized the legitimacy and importance of social media marketing as 86 percent of surveyed businesses place a high value on social media in their marketing plan. 
While the concept of social media marketing has been widely accepted, where many professionals struggle is in understanding and identifying what content will add value to their social media efforts. The same report above states that two thirds of businesses that market via social media channels also question the effectiveness of their efforts—particularly on Facebook. Additionally, and overwhelming 89 percent of marketers state that increased exposure is the top priority to social media marketing. The challenge is in identifying what to expose and who will champion the communication of this information.
As we move further into this digital marketing age, more and more evidence has emerged dictating that customers value employee testimony and peer feedback over advertisement. An online presentation by Liz Bullock, CEO of Social Arts & Science Institute, reports that customers consider an every day employee to be twice as trustworthy as a company's executives, and 90 percent of consumers trust the recommendations of someone they know (versus a scarce 14 percent that trust advertisement). Looking at Facebook's user outreach alone, customers and everyday employees voicing their opinion online now have 2 billion listeners accessible by a few keystrokes. 
If increased exposure is the ultimate social marketing goal and your employees have the loudest voice online, how does this translate to marketing for healthcare facilities—particularly as it relates to recruitment and retention? 
For the sake of cohesion, let's swap the word "company" for "hiring facility" and the word "customer" for "sought-after talent," and take another look at the statistics above. The things your staff members are communicating online about your facility's culture and values hold double the importance of your direct advertisement efforts. Employee (and patient) testimony is playing a huge role in influencing how potential talent evaluate your culture.
Just like any customer researching the authenticity of a product online through feedback from other consumers, potential talent will research the ethics and character of a hiring facility from other providers on staff. Therefore the greatest opportunity to influence your social media health is in clearly marketing your company brand—i.e. identifying and communicating your facility's values, mission, and internal culture in whatever way you want to be viewed by potential talent (and potential patients). In other words, how does your social media marketing efforts share the "soul" of your organization?
While you may not have direct control over the opinion (AKA voice) of each member of your staff, you can control the strength of your organization's brand identification and the values your brand supports. All of this can be shared via your organization's social media channels through creative campaigns and transparent, authentic content. Often, the values and culture exhibited on an every day organizational level are reflected in the feedback and voice of staff members, and paralleled through virtual platforms. 
While there are thousands of resources available to facility representatives and marketers looking to increase their social media strategy, it is important not to become overwhelmed in planning your own marketing strategy. Consider the following Golden Rules as you approach your 2014 strategy, remembering to utilize social media as a channel in recruitment and retention marketing: 
1. Always present clear, authentic, and ethical information: By communicating closely with your employees (and patients) on a social media level, you become a trusted source of information, which is a great asset when creating company awareness and brand credibility. It is important to remain aligned with your organization's values in all correspondence, as conflicting social media interactions (particularly from staff members and other testimonials) will result in confusion or distrust under the scrutiny of mass communication. 
2. Focus more on showcasing your brand, less on controlling the interpretation of the reader: The goal of recruitment is in finding a provider that will thrive in your organization's culture and environment. Instead of catering a message that will seem attractive or appealing to a potential hire (or patient), own the unique qualities of your organization that set you apart and share them for all to see. When a provider knows where they can fit into your organization, they will be much more inclined to hear and consider your offer of employment. 
3. Expand your reach: For many organizations and businesses throughout the country, Facebook seems to be the "gateway" platform to social media marketing—and for good reason. Social Media Examiner's report states Facebook is ranked by 49 percent of marketers as the top platform for social media. LinkedIn (the next highest ranked platform), Twitter, YouTube, and blogging are also excellent resources to communicate your cultural brand, as each provide opportunity for direct communication and feedback. 
4. Don't overestimate time requirements and cost: Many facilities not already on the social media train may find the task daunting or overwhelming to start. Social Media Examiner's report found that by spending as little as 6 hours per week on social media marketing, companies saw a 64 percent increase in lead generation benefits. Additionally, social media has steadily taken over traditional print marketing and advertising and provides a great boost to PR efforts without a huge time or monetary commitment. 
5. Keep it simple to promote the most interaction: When it comes to developing your social media messaging, brief is best. Tiwtter gives you 140 characters to craft your point—never say in a paragraph what can be said in a statement; never state in a post what can be included in a comment. If a picture is worth 1,000 words, a video (YouTube) is worth 100,000. Remember to ask questions, tag employees, and open your channels to all forms of interaction in order to best spread your reach. 

Placements & Interviews
Placement Data by Specialty
This data represents average statistics of placements and interviews by Delta Physician Placement over the twelve-month survey period. Since these averages only include placements and interviews, the compensation information presented indicates the rate at which candidates are choosing to interview or sign. Average days information can be used to forecast a probable timeline for a recruitment effort in a particular specialty.
Average Compensation
Average Days
Starting Compensation
Sign-on Bonus
Potential Compensation
From Interview to Placement
Total Placement
Fastest Days-to-Fill
Primary Care
Family Medicine
$204,101
$20,105
$239,573
28
124
3
Internal Medicine
$214,602
$32,500
$280,000
34
74
50
Pediatrics
$197,333
$23,000
$233,167
40
184
83
Psychiatry
$202,583
$19,545
$234,167
29
161
1
Obstetrics/Gynecology
$283,750
$26,250
$393,750
22
131
78
Surgery
General Surgery
$360,625
$31,429
$413,750
31
111
23
Orthopedic Surgery
$473,373
$61,667
$616,667
26
174
34
Otolaryngology
$450,000
$40,000
$425,000
150
150
125
Urology
$449,000
$27,500
$617,442
38
189
87
Sub-Specialty
FM- Obstetrics 
$235,833
$23,330
$270,000
15
138
42
Neurology
$275,000
$10,000
$350,000
6
73
73
Pulmonary Critical Care
$350,000
$20,000
$400,000
72
235
235
Gastroenterology
$450,000
$45,000
$500,000
78
354
354
Hospital-Based
Anesthesiology
$475,000
$20,000
$525,000
21
26
52
Radiology
$350,000
$25,000
$700,000
22
53
53
Hospitalist
$228,750
$23,333
$274,417
22
109
65
Emergency Medicine
$281,807
$28,500
$318,455
21
141
15


---
Placements by Population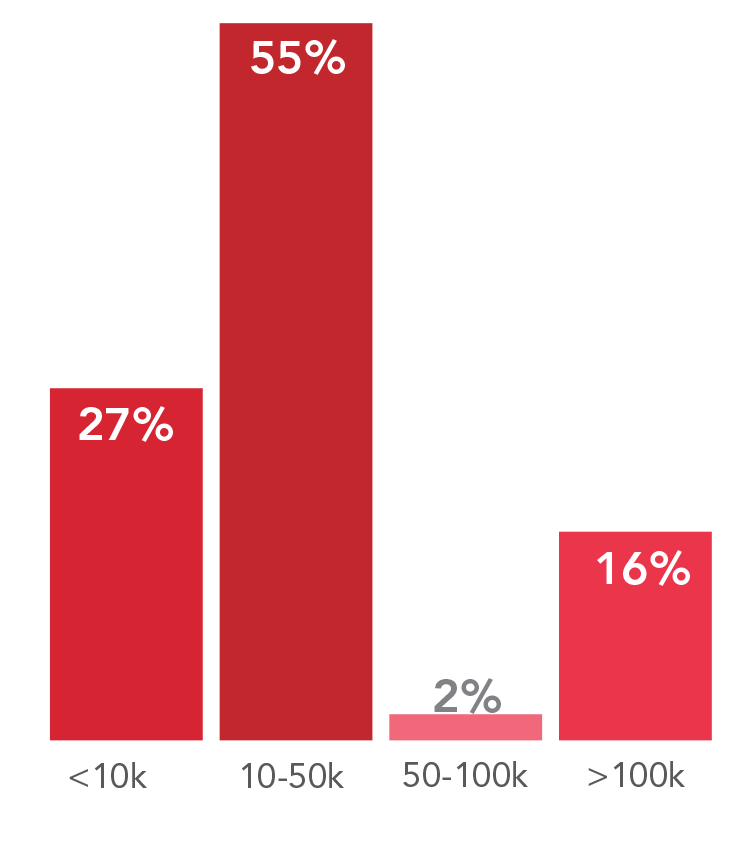 Candidate Sources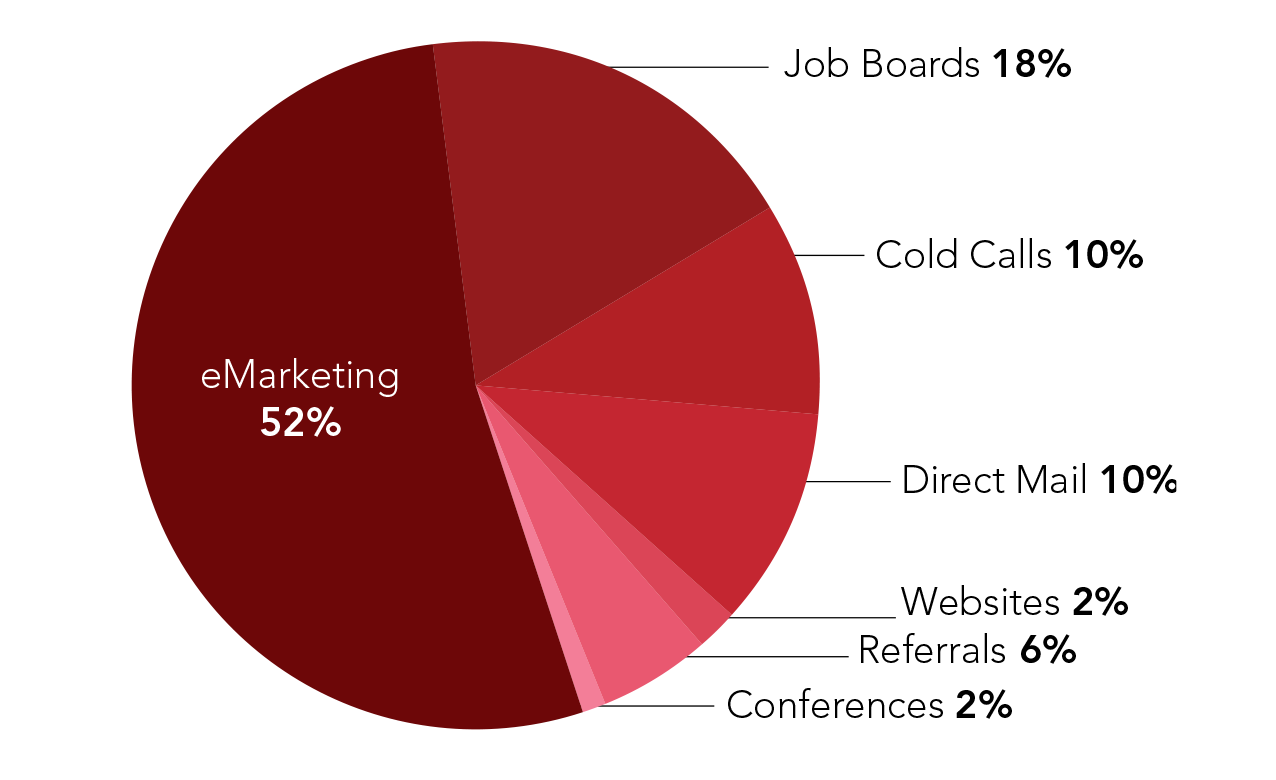 Market Demand
Nationwide Search Distribution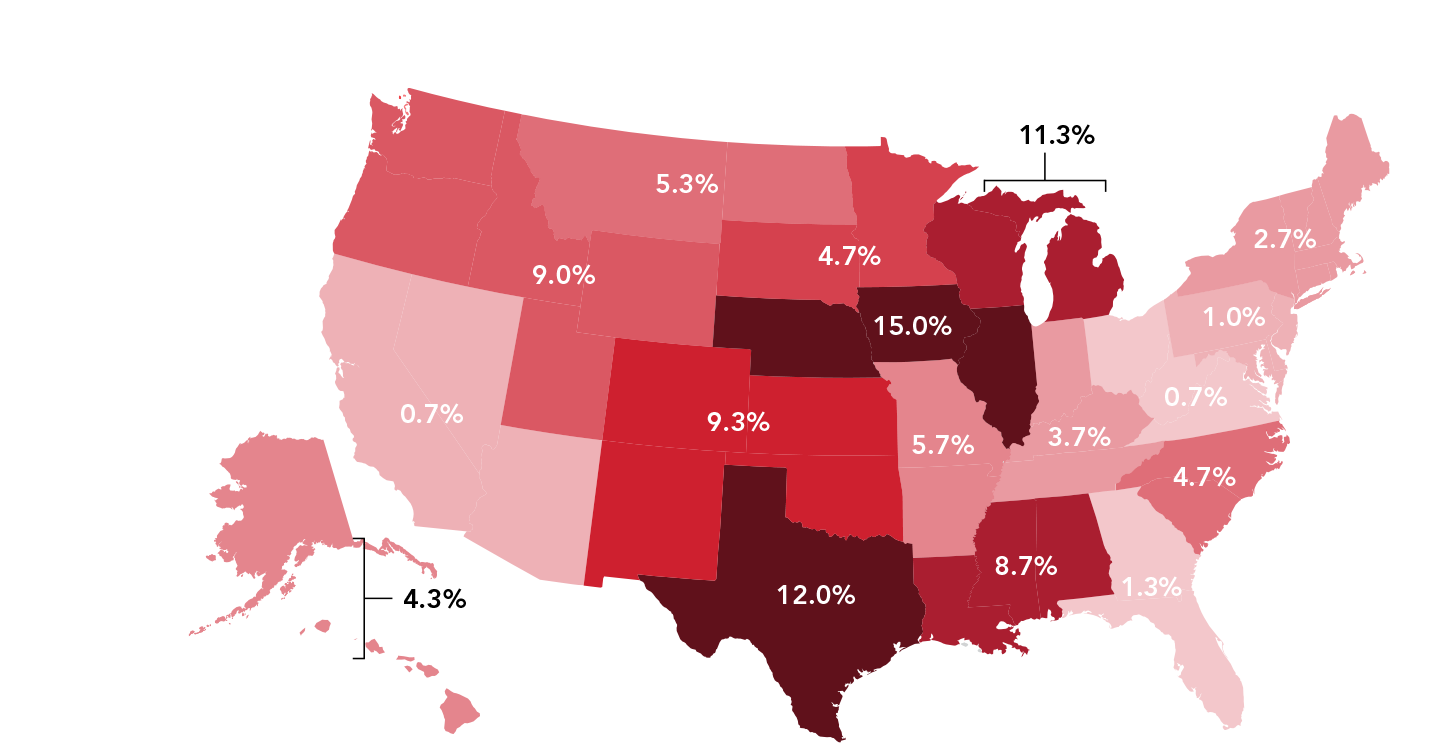 ---
Specialty Demand Comparison
| | | |
| --- | --- | --- |
| | 4th Quarter 2013 | 4th Quarter 2012 |
| 1. | Family Medicine | Family Medicine |
| 2. | Internal Medicine | Hospitalist |
| 3. | Neurology | Emergency Medicine |
| 4. | Emergency Medicine | General Surgery |
| 5. | Family Medicine - Obstetrics | Pediatrics |
| 6. | Orthopedic Surgery | Family Medicine - Obstetrics |
| 7. | Hospitalist | Internal Medicine |
| 8. | Pediatrics | Orthopedic Surgery |
| 9. | Psychiatry | Cheif of Medicine |
| 10. | Vasculary Surgery | Endocrinology |
| 11. | Cardiology - Interventional | Neurology |
| 12. | Critical Care Medicine | Obstetrics and Gynecology |
| 13. | Endocrinology | Occupational Medicine |
| 14. | General Practice | Pain Management |
| 15. | Obstetrics and Gynecology | Pathology |
Search Specialty Distribution

---
Candidate Placements
Top 5 States Providers Have
Taken New Opportunities
1.
Texas
2.
Iowa
3.
North Carolina
4.
Montana
5.
Louisiana

Locum Tenens
Days Requested - Top Specialties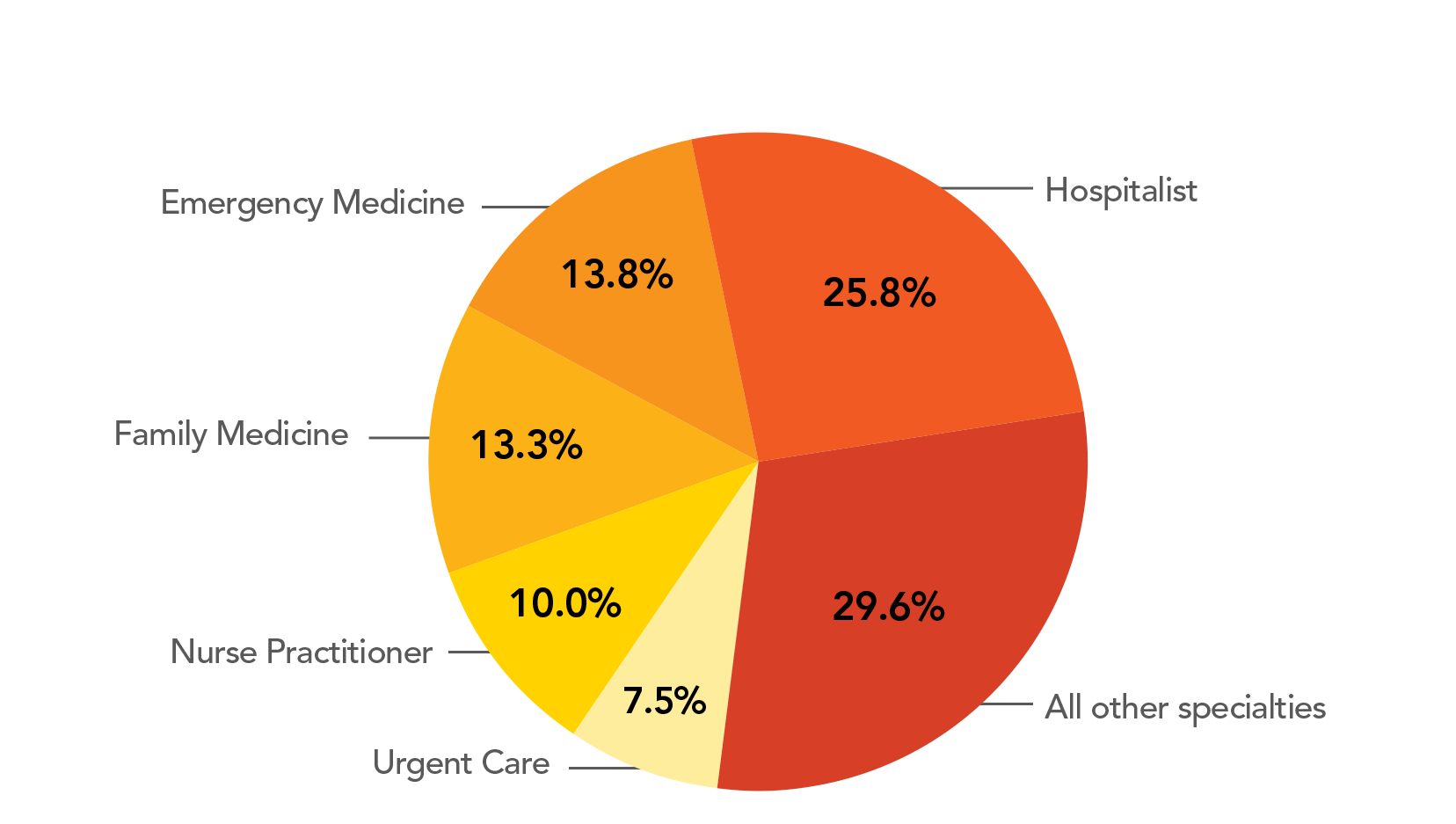 Nationwide Physician Distribution