Industry Perspectives
Knowing your demographic: Exploring the utilization of locums physicians to expand business
By: Justin Roark, Recruiting Principal, Delta Locum Tenens
Offering services appropriate to the community is essential to maintaining patient retention for any healthcare facility. It is imperative to understand your patient draw area and the demand for specialties within the area. Even family practice clinics can tailor their services to community needs and draw in new patients by offering services that competing facilities do not. 
For example, in a demographic of predominately female patients, could hiring a female practitioner make female patients feel more at ease, and therefore increase the likelihood of a return visit? Or if a facility is located in a predominately Spanish-speaking area, how would hiring a bilingual physician impact business expansion and patient care? 
A journal published by NCBI actually stated that a physician's own demographic background and characteristics has been found to influence their practice of medicine. The journal stated that understanding the way in which physician demographic characteristics influence clinical care using multidisciplinary and multimodal approaches provides an opportunity to improve the quality of medical education and improve the quality and efficacy of medical care of patients. Arguably, aligning these demographic influences may also align the way a patient adheres to post-visit directions. 
One way to test the waters with tailoring facility staff to the demographics of a community is by utilizing locum tenens physicians to extend healthcare services. Offering short-term employment as a "trail run" to attract patients can be a cost-effective way to determine what permanent recruitment needs your facility may have. 
An additional benefit to understanding the needs and demands of your facility's community is in foreshadowing what types of specialties may thrive in the area. Utilizing locums services can be an efficient way to test new services such as adding new programs or specialties to your practice. For example, adding a pediatrician to an adult heavy practice targets a new demographic (children of existing adult patients), which brings in new reimbursements through Medicaid and still allows parents access to their existing physician. If your primary care practice currently has an internist, could you benefit from adding a nurse practitioner to your staff? Utilizing a nurse practitioner would allow the existing internist to spend more time on inpatient care while the NP maintains outpatient volume. What if your inpatient neurology clinic brought in a locum physician to establish a MS patient base? How much more profitable would your facility be? Utilizing locums candidates in these situations allows facilities to test the practicability of sustaining new business, before committing to a permanent hire. 
Additionally, having a locums physician spearhead the startup of such programs can actually increase recruitment incentives for permanent physicians. A locums doctor can help build a patient base and then turn the program over to an incoming permanent hire. Permanent candidates will be more attracted to such an opportunity, as the patient base is already thriving and viable. In the long run, this can help improve employee retention because incoming physicians will be providing specialized services to an area that has a proven need for the service.

Placements & Interviews
Placement Data by Specialty
This data represents average statistics of placements and interviews by Delta Physician Placement over the twelve-month survey period. Since these averages only include placements and interviews, the compensation information presented indicates the rate at which candidates are choosing to interview or sign. Average days information can be used to forecast a probable timeline for a recruitment effort in a particular specialty.
Average Compensation
Average Days
Starting Compensation
Sign-on Bonus
Potential Compensation
From Interview to Placement
Total Placement
Fastest Days-to-Fill
Primary Care
Family Medicine
$212,208
$35,227
$253,250
41
112
21
Internal Medicine
$207,733
$20,714
$269,333
51
157
40
Pediatrics
$192,000
$10,500
$216,667
38
126
33
Psychiatry
$230,000
$24,375
$229,375
73
181
22
Obstetrics/Gynecology
$326,400
$33,000
$409,000
12
76
43
Surgery
General Surgery
$383,750
$32,857
$446,250
116
218
63
Orthopedic Surgery
$568,000
$40,000
$760,000
35
143
40
Otolaryngology
$487,500
$67,500
$550,000
31
107
93
Urology
$535,000
$61,667
$708,333
39
89
72
Sub-Specialty
FM- Obstetrics 
$260,500
$22,500
$300,000
32
153
151
Neurology
$287,500
$30,000
$437,500
59
17
33
Pulmonary Critical Care
$335,000
$37,500
$386,667
36
116
25
Hospital-Based
Occupational Medicine
$240,000

$10,000

$250,000
87
140
140
Hospitalist
$237,833
$23,333
$256,333
32
149
33
Emergency Medicine
$255,000
$15,000
$270,000
9
77
77


---
Placements by Population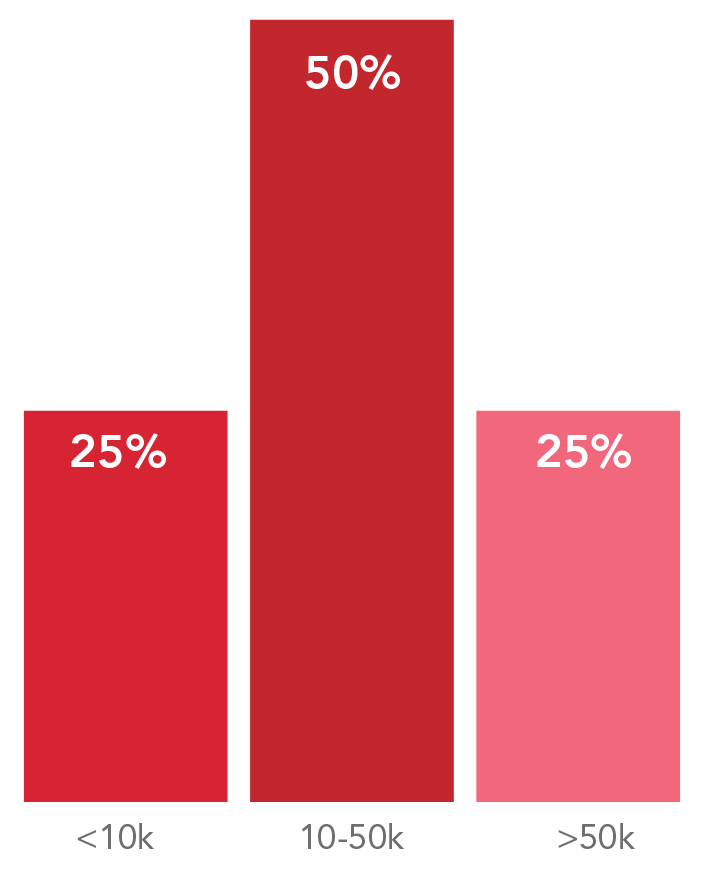 Candidate Sources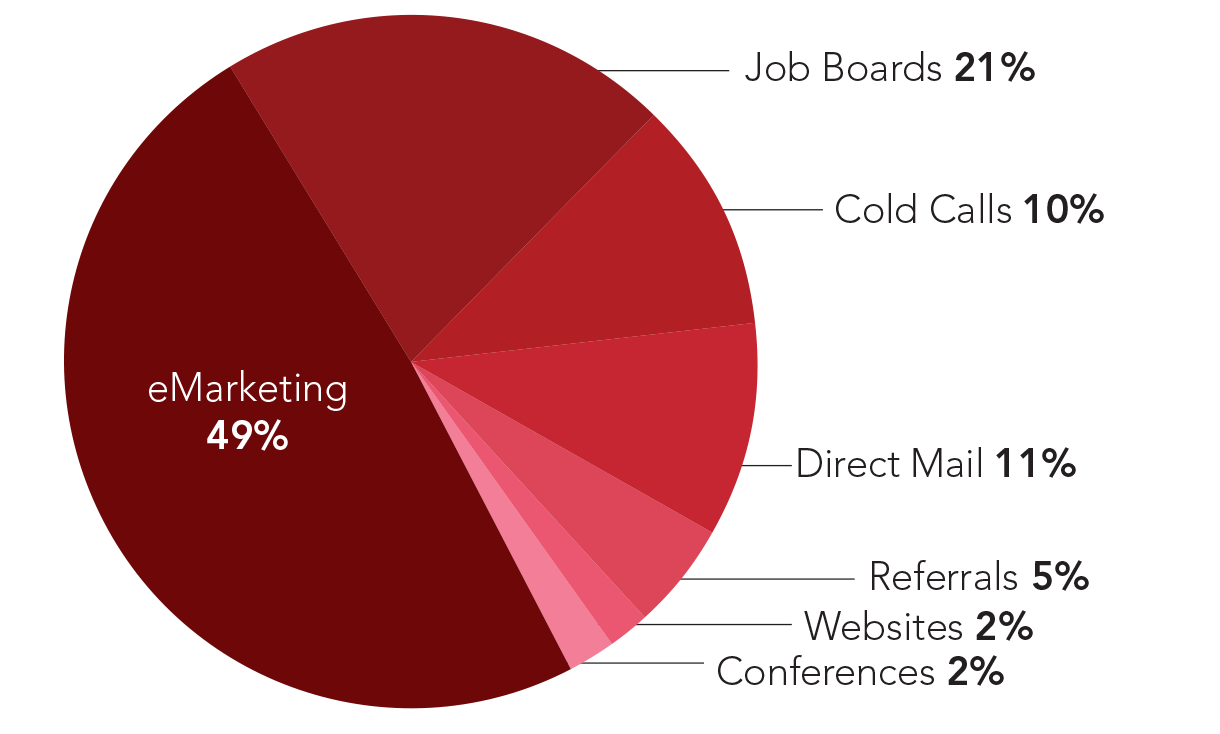 Market Demand
---
Specialty Demand Comparison
| | | |
| --- | --- | --- |
| | 4th Quarter 2014 | 4th Quarter 2013 |
| 1. | Family Medicine | Family Medicine |
| 2. | Emergency Medicine | Internal Medicine |
| 3. | Pulmonary Critical Care Medicine | Neurology |
| 4. | Hospitalist | Emergency Medicine |
| 5. | Internal Medicine | General Surgery |
| 6. | Family Medicine - Obstetrics |  Orthopedic Surgery |
| 7. | Neurology | Hospitalist |
| 8. | Psychiatry | Pediatrics |
| 9. | Radiation Oncology | Psychiatry |
| 10. | Dermatology | Vascular Surgery |
| 11. | Hospitalist Director | Interventional Cardiology |
| 12. | Nephrology | Critical Care Medicine |
| 13. | Obstetrics and Gynecology | Endocrinology |
| 14. | Opthalmology | General Practice |
| 15. | Orthopedic Surgery | Obstetrics and Gynecology |
Nationwide Search Distribution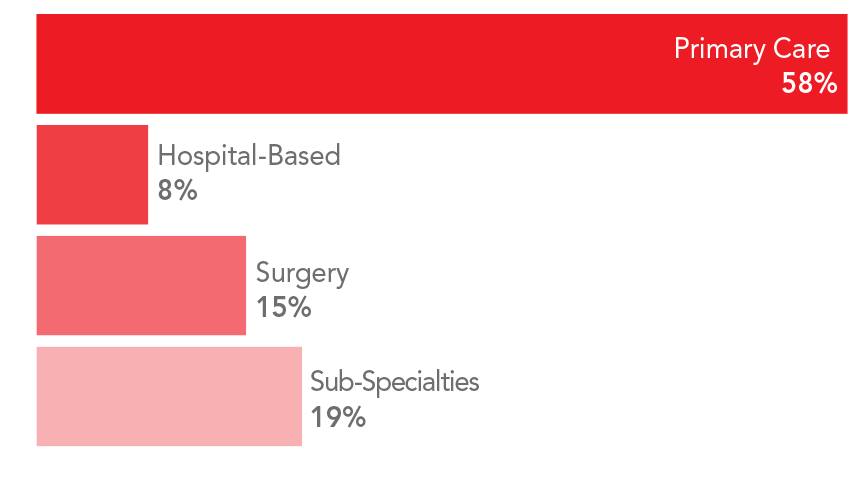 ---
Candidate Placements
Top 5 States Providers Have
Taken New Opportunities
1.
Texas
2.
Iowa
3.
Wisconsin
4.
Louisiana
5.
Wyoming

Locum Tenens
Days Requested - Top Specialties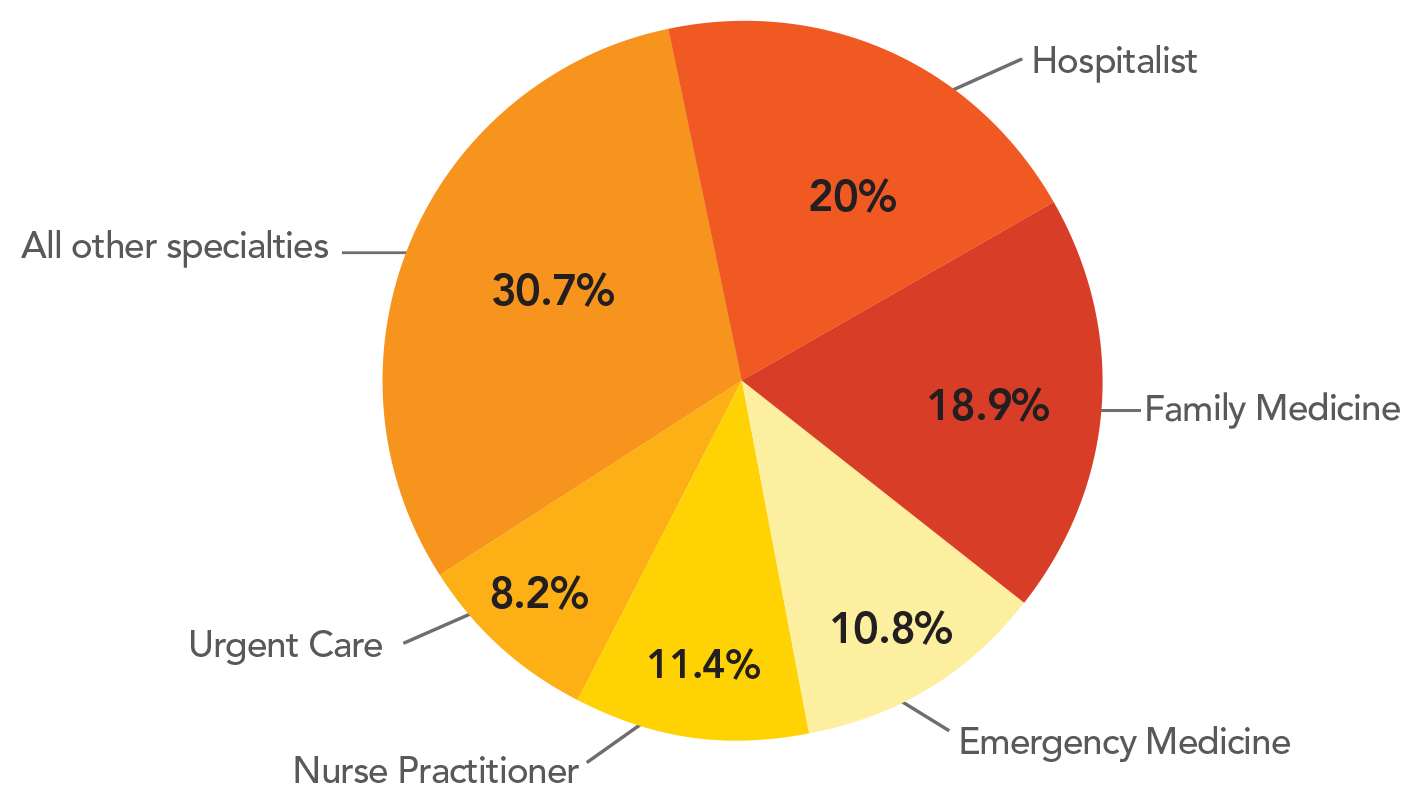 Nationwide Physician Distribution